Introduction
The National Network of State Teachers of the Year (NNSTOY) hosts an annual conference that brings together many of the nation's most accomplished and celebrated teachers to explore the policies and practices that advance teacher leadership, promote educator effectiveness, and further the necessary conditions that support great teaching and learning for all students.
In July, 2018, the NNSTOY's annual Teacher Leadership Conference brought current and former State Teachers of the Year together with educators, policy experts, and teaching teams from across the United States for a three-day collection of inspiring and informative workshops, presentations, and professional learning sessions.
When the conference concluded, NNSTOY was eager to extend the conference's learning and impact well beyond those teacher leaders fortunate enough to attend the Las Vegas event.
NNSTOY and ExtendedSession worked to re-create many of the conference's key sessions in the form of collaborative live online workshops, and to present these offerings to an extended network teachers and school leaders who otherwise would have missed the opportunity to take part.
The result: On a single Saturday, twenty distinguished speakers came together for eleven engaging online conversations, each focused on an essential personal or professional strategy that attendees could apply immediately to their professional practice. These extended sessions were additionally recorded and archived for subsequent access by NNSTOY members and their local and national colleagues.
The effort was so successful that NNSTOY is again taking steps to integrate this new digital component as a regular, ongoing part of its annual Leadership Conference planning.
Case Study
The NNSTOY Online National Teacher Leadership Conference
Showcasing essential presenters and their messages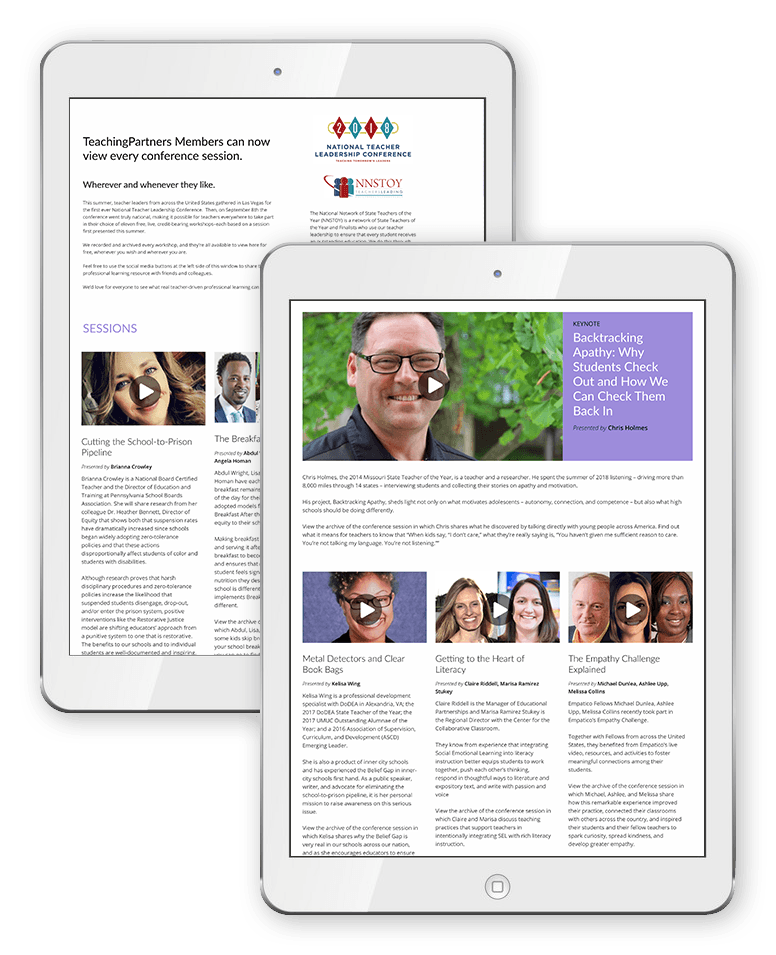 AGENDA
We helped NNSTOY extend the success of their in-person event, integrating the most impactful professional learning sessions offered during their three-day conference into a unique one-day online agenda.
We introduced these extended sessions in ways that underscored NNSTOY's commitment to placing teacher leadership and teachers' own authentic voices at the center of their professional practice, and worked in advance of each session to secure speakers and to prepare them to host entirely new, engaging online conversations.
COMMUNICATIONS
We developed a new email campaign for NNSTOY to promote the conference—one that help spread the word among the organization's existing membership while at the same time introducing NNSTOY to new participants.
We shared these materials across NNSTOY'S partner network—and among individual speakers' networks as well. And, we helped introduce the online conference and the organization itself to a new network of potential attendees via social media.
PLATFORM
We provided the digital conference platform upon which the new online conference was marketed and presented. Our ExtendedSession Online Conference platform made it easy to register attendees and to enroll them in individual conference sessions.
Once the conference began, we managed each online session as it occurred, providing live session facilitators, and also preparing a video archive of each conversation so that even people who had missed a session could easily view what they'd missed—all on their own schedule.
COMMUNITY
Throughout, we made it possible for NNSTOY to continue to cultivate online attendee's interest in specific conference themes and presentations, and to track and measure their engagement in specific topics and speakers.
We helped keep the conversation going even after the online conference concluded by organizing attendees into online groups that continued to keep like-minded participants connected.