We know technology.
We're interested in people.
ExtendedSession helps individuals, organizations, and businesses surround familiar video conferencing software with ease, elegance, and automation.
Our ExtendedSession Online Conferencing Platform integrates the registration, presentation, ticketing, and customer management software you need to quickly present your own branded, integrated online event —whether you're planning a single one-time performance, or a multi-day conference with hundreds of speakers.
Like you, we think of technology as a tool. What motivates us is making connections with other people— including all that's needed to produce, manage, and maintain online events that keep audiences connected and engaged.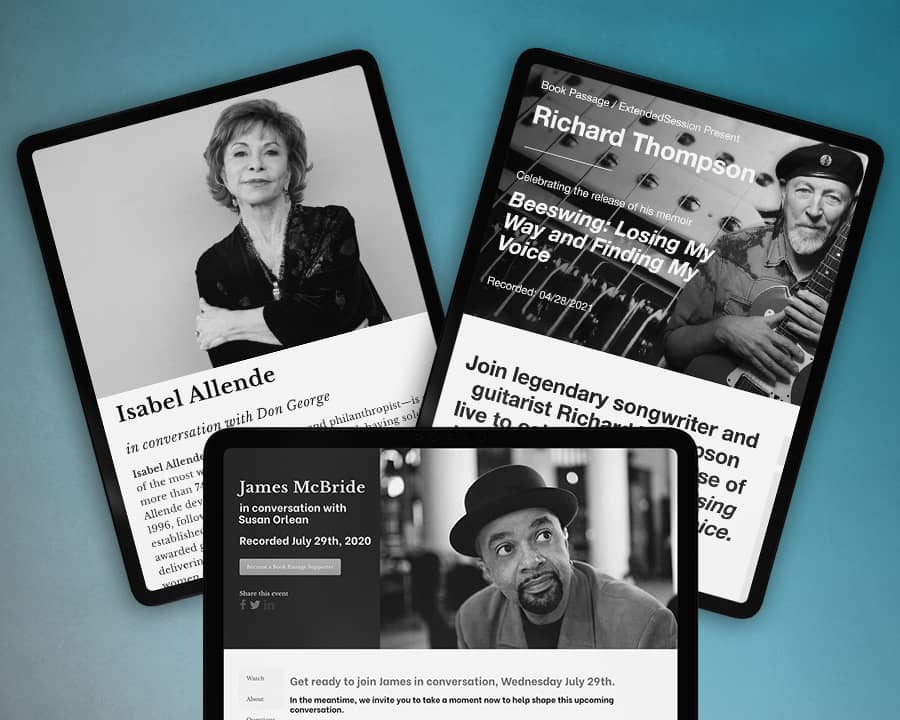 CONVERSATIONS AND PERFORMANCES
We're helping publishers and producers develop live, online programming that presents some of today's most engaging creative thinkers, thought leaders, and news makers.
We're also sharing what works best with individuals and organizations eager to present their own live events and grow their digital networks.
View our upcoming live sessions further down this page. Click the arrow below to view an index of our most recent sessions.
View Recent Sessions
CLASSES AND WORKSHOPS
We're helping creative leaders, teachers, and educator share what they know in ways that encourage personal  engagement, professional development, and collaboration.
We're also applying what we've learned from more traditional learning environments to new programming that makes the most of online learning.
Click the arrow below to discover "Five Things I've Learned." It's an idea we like so much we that produce it all ourselves.
Visit "Five Things I've Learned"
CONFERENCES AND FESTIVALS
We're helping businesses and organizations extend already successful conferences and festivals in ways that grow their digital networks.
We're also helping other organizations to introduce new online events that promote their brand and showcase their products.
Together with our partners, we're looking forward to these upcoming sessions, each of which makes easy use of the ExtendedSession Online Conferencing platform.
Click an image below to find out about an upcoming events with one of today's most engaging creative thinkers, thought leaders, and newsmakers.
View All Upcoming Sessions
Together with partners, we've recently organized and presented sessions featuring some of today's most engaging creative thinkers, thought leaders, and newsmakers.
Click an image below to visit the archive of a recent, corresponding ExtendedSession event.
In some cases, you may be asked to register to view the video archive of the recent event. (The page you're visiting, and the registration system you encounter there: That's ExtendedSession, too.)
View All Recent Sessions
Get in touch
Thinking about broadcasting a brand-new online conversation, class, or conference?
Considering the best way to extend an existing in-person conference, summit or festival; or to re-present an ongoing course, or workshop?
Use the fields to the right to send us a brief note. We'd be pleased to tell you what we know.